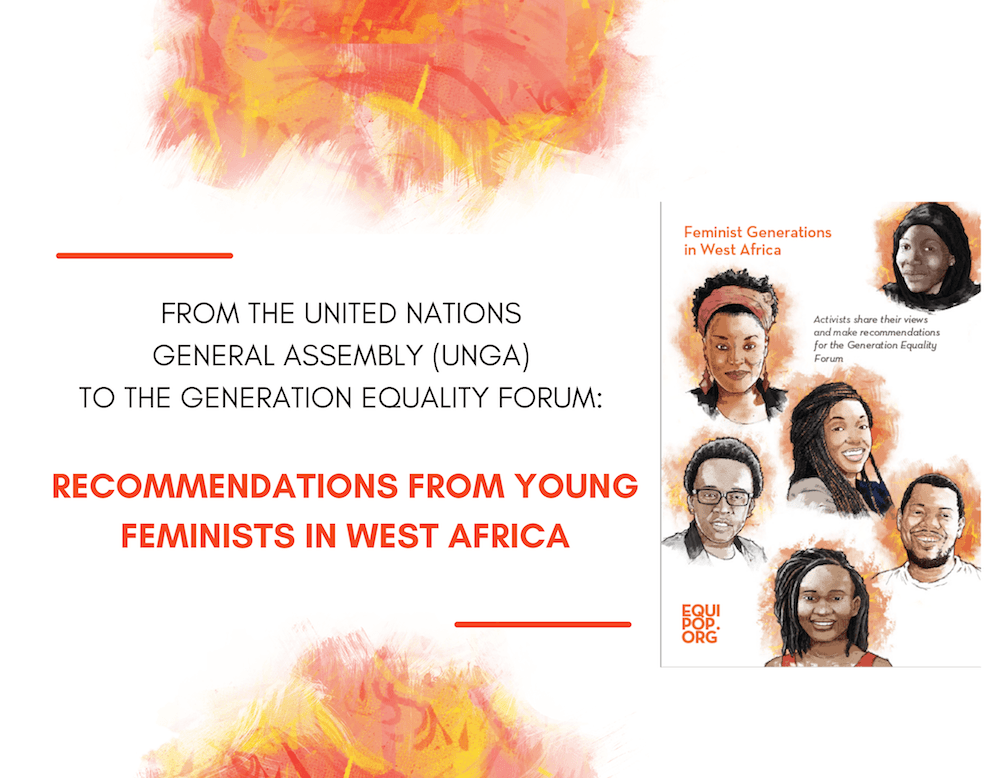 – FROM THE UNITED NATIONS GENERAL ASSEMBLY (UNGA) TO THE GENERATION EQUALITY FORUM: RECOMMENDATIONS FROM YOUNG FEMINISTS IN WEST AFRICA
The United Nations General Assembly is currently taking place and it marks the beginning of a political momentum that will culminate in the summer of 2021 with the Generation Equality Forum in Paris. The coming months represent a unique opportunity to foster progress towards gender equality at the global level, and West African states must fully participate in the process. Discover the four main recommendations expressed by young feminist from West Africa in a publication released today.
The 75th General Assembly of the United Nations is happening in the context of the Covid-19 crisis, which has highlighted and exacerbated gender inequalities. All over the world, women have played a fundamental role leading the fight against Covid-19. This has been emphasized by both, governments and feminist associations, which for years have been calling for ambitious public policies on health, care and equal pay. However, the speeches made by most of the heads of states and governments, in the framework of the virtual United Nations' general debate, do not consider gender equality as a key issue.
A more assertive high-level speech on this topic is now eagerly expected. The sequence that begins on October 1st with the high-level UN event celebrating the 25th anniversary of the Beijing conference, « Accelerating the Realization of Gender Equality and the Empowerment of all Women and Girls » and ends in the summer of 2021 with the Generation Equality Forum, is crucial.
Four Recommendations for West Africa and Beyond
The event that will take place on October 1st should be a call to action for the coming months rather than a simple celebration event. What type of actions should be fostered? The young feminists of West Africa have concrete recommendations, which should apply in West Africa, but are valid for the whole world.
Facilitating networking between activists and feminist groups and creating the conditions for intergenerational dialogue. Young feminist groups and activists need civic spaces where they can talk and strategize about joint advocacy and mobilization efforts.
Co-designing public policies with feminist activists and organizations. To achieve real equality between women and men, they must be able to participate in the construction of public policies.
Adapting funding mechanisms to make it easier for local feminist organizations to access resources and achieve genuine societal and political change. Funding for young feminist associations is very insufficient and too often remains inaccessible to most structures. Long-term and flexible funding must be prioritized.
Actively supporting young feminist participation during international fora. Civil-society and especially feminist organizations and networks from French-speaking West Africa often face major difficulties that prevent them from making their voices heard in international processes and fora. Participating in the Generation Equality Forum is essential, as is their inclusion in developing contents for the action coalitions.
The publication released today has been coordinated by Equipop. It provides details on these recommendations that echo the life stories of 13 Senegalese and Ivorian activists interviewed by five students in partnership with the French University Sciences Po.
Strong mobilization for an impactful Generation Equality Forum
Starting to implement these recommendations in the coming months allows going beyond a simple exchange of practices. It will make the Generation Equality Forum a crucial step towards a real paradigm shift for gender equality.
West Africa has a major role to play in this development. Equipop and its partners call on political leaders from the region to engage their states in the Generation Equality Forum process, especially within the Bodily autonomy and sexual and reproductive health and rights (SRHR) action coalition led by Burkina Faso and France.
We also call on Emmanuel Macron to ensure that young feminists from West Africa, particularly francophone feminists, will be included in all the processes related to the Generation Equality Forum.
Find the complete publication to download in PDF format here