– Equipop Labs: equipping collective intelligence
Equipop, convinced of the transformative potential that collective and multidisciplinary action represents, decided in 2017 to extend its range of support for changemakers. It now offers Equipop Labs, a new method of supporting project planning and development within the Equipop Innovation Fund.
What are Equipop labs? Equipop Labs are project-incubation spaces that aim to enable CSOs, institutions, and anyone else working for the protection and respect of SRHR to take the time to strate–gize and plan collective actions. Created in partnership with Design-Thinking specialists, Equipop Labs follow three main steps, as summarized in the diagram below: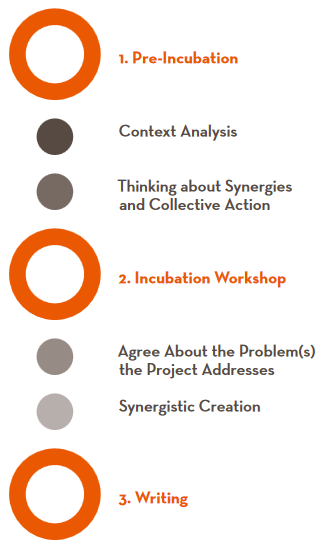 1. Incubation preparation phase: fine-tuning
a common understanding of the context and
forces involved
Conducted by Equipop in collaboration with
its partners, this contextual analysis takes
stock of issues in each area, identifying gaps,
possible synergies, and stakeholders whose
know-how and positioning will be useful in
designing projects.
2. Incubation phase: equipping collective intelligence In this phase, Equipop uses Design Thinking and brings together various experts during a one-week (on average) workshop in order to create joint actions. The incubation phase covers: 1 – the group identifying the key issue that must be acted on, 2 – thinking about how this issue can be addressed by the incubated project, 3 – prototyping and testing the selected solu-tion, and then refining it in order to improve it.
3. Writing phase
Once the incubation workshop has been completed, the organizations in charge of the future project finish writing a description of it up based on workshop discussions.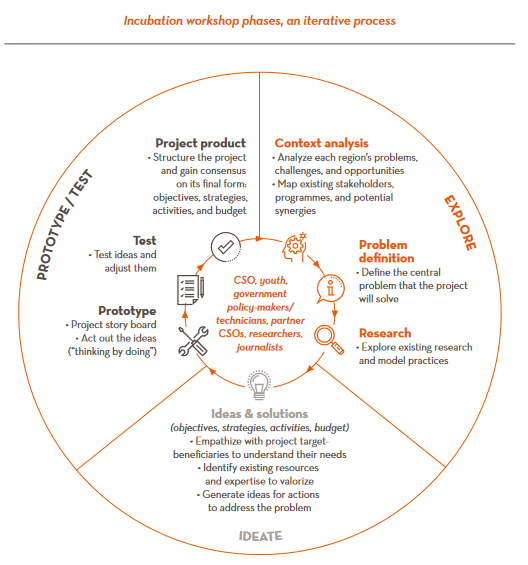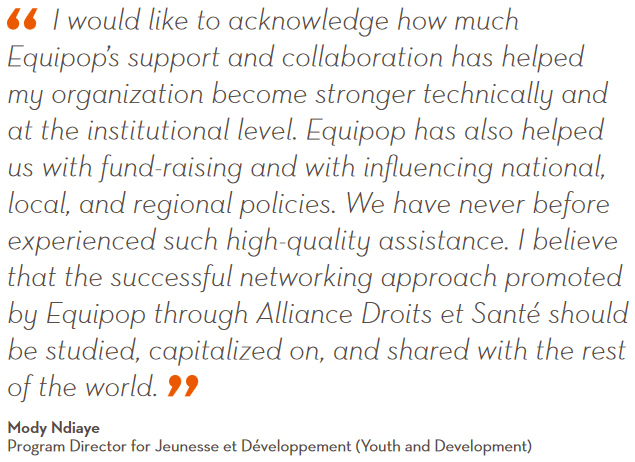 An approach that revisits the concept of partnership Equipop has put in place a system that aims to separate project design, which requires time and consultation, from looking for fun–ding because when those two phases are joined, they tend to hinder collective thinking and analysis, the keys to innovation. The key to this system is the Innovation Fund, which provides funding for incubated projects. Thus, an Equipop Labs project incubation requires setting up the conditions for mul–tiple actors and different types of experts to collaborate right from the beginning – the pro-ject-design phase. Equipop invites a variety of partners – government officials, CSO staff, lawmakers, young people, UN-system experts, academics, researchers, and journalists – to share their in-depth knowledge about an area and identify target-audience needs that call for action. Pooling such expertise facilitates the emergence of transformative solutions, making it possible to take stock of existing initiatives and evaluate what works well and what does not; it also helps produce a pro–ject in a facilitating environment. Mobilization that begins with the design phase has another great advantage: it anchors the project in an area, creating new partnerships and ensuring that the stakeholders who will implement the project will take better ownership of it. A cross-cutting approach After two years of experience with Equipop Labs, a wealth of incubated projects cove–ring a large range of subjects has confirmed the value of the method's cross-cutting nature. Incubated projects in most countries combine supporting activities with youth-leadership development, targeted advocacy actions, and citizen mobilization through the arts and media. These actions are intended to strengthen and ensure national commitments to respect and implement SRHR for young people. Equipop Labs have been applied to various contexts, from the simplest to the most complex, and to social and political community-mobilization actions and projects. Equipop has conducted about 15 Equipop Labs for projects run by youth groups, CSO consortia, and institutions such as UN agencies.