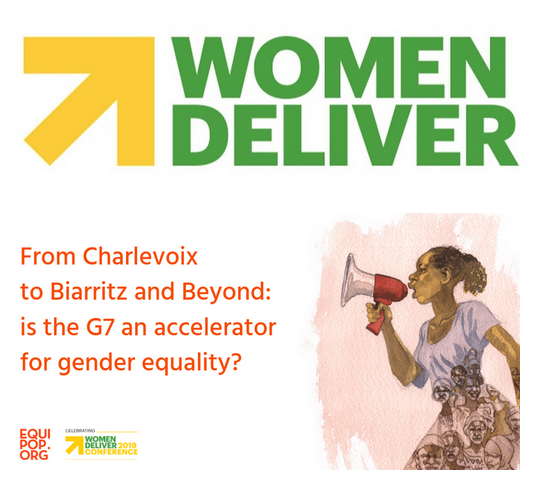 – Women Deliver – From Charlevoix to Biarritz and Beyond: is the G7 an accelerator for gender equality?
Feminist activists gathered in Vancouver, Canada, to participate in Women Deliver 2019. Among the events marking the conference, a panel discussion on June 4 focused on the role that the G7 could play to accelerate efforts toward gender equality.
Phumzile Mlambo-Ngcuka, Executive Director of UN Women, delivered a crystal clear message in her opening address: no country has achieved gender equality. She emphasized the importance of collective action, and of building broad alliances. She lauded France and Canada for connecting the G7 Presidencies, while emphasizing that G7 Member States have an obligation to demonstrate exemplarity on matters of gender equality: each advancement is a signal of hope for the women of the entire world.
Investments in civil society are critical
Katja Iversen, President/CEO of Women Deliver, described the goal of the 2019 Gender Equality Advisory Council: to propose a progressive package of legislative measures to further gender equality. She emphasized the critical role of civil society to achieve gains for women and girls. The need to come together massively in the evolution to gender equality was also highlighted by Michael Kauffman, a leader among several pro-feminist networks: men must be allies, we need to understand men as gendered creatures. All of society will benefit from such an evolution.
The W7 movement must have a seat at the table
In continuity with Katja Iversen's message, Aurélie Gal-Regniez, Executive Director of Equipop, reminded the audience of the demands of the Women 7. First, more funding dedicated to feminist organizations; more resources, but also more suitable partnering mechanisms. Second, increased and systematic participation of women and girls in policy making. On that second point, she explained the necessity and interest of governments to move, with feminist organizations, toward a veritable co-construction of public policy. Two major challenges remain for the preparation of the Biarritz Summit in terms of civil society involvement in the G7: ensure participation of the W7 at the Finance Ministerial, and secure an exchange with Heads of State at Biarritz.
Irmine Ayinhouton, young feminist from West Africa, seized the moment to speak on behalf of "voiceless" women and girls, all of those women and girls who have no voice. She echoed the fact that women and girls should be systematically involved in designing the policies that affect them, and at the negotiation table, starting with the G7: "what is done for us without us is done against us!"
The emergence of "feminist" diplomats and the stakes of the G7 hand-over to the United States
Lyric Thompson, of the ICRW (International Center for Research on Women) called out the expectations of the W7 in terms of foreign policy, noting that France affirms its adherence to a "feminist" diplomacy, as do Canada or Sweden. She highlighted several fundamental principles, and particularly: guarantee participation of women and girls in decision-making bodies, support strategies and actions that strive for true social transformation, and increase funding of feminist associations at all levels. She also underlined the importance of collective mobilization in advance of hand-over of the G7 Presidency from France to the United States in 2020, specifically on the question of sexual and reproductive health and rights (SRHR).
Pursue efforts above and beyond the commitments from Canada and France
Ministers with responsibility for gender equality for France and Canada, Marlène Schiappa, and Maryam Monsef, reiterated the commitments of their respective Governments to make gender equality an absolute priority. Canada announced an increase of its development assistance by Can$ 1.4B per year for women's rights and health, and the creation of a new fund supporting feminist associations, thereby making Canada the number one investor in support of women's organizations in the world. In turn, France confirmed its commitment of 120 million euros for feminist associations.
Minister Schiappa emphasized that gender equality is a global cause. Mobilization around that cause continues, not only through the G7, but looking forward to the 25th anniversary of the Beijing Conference, to be celebrated in France in July in 2020.