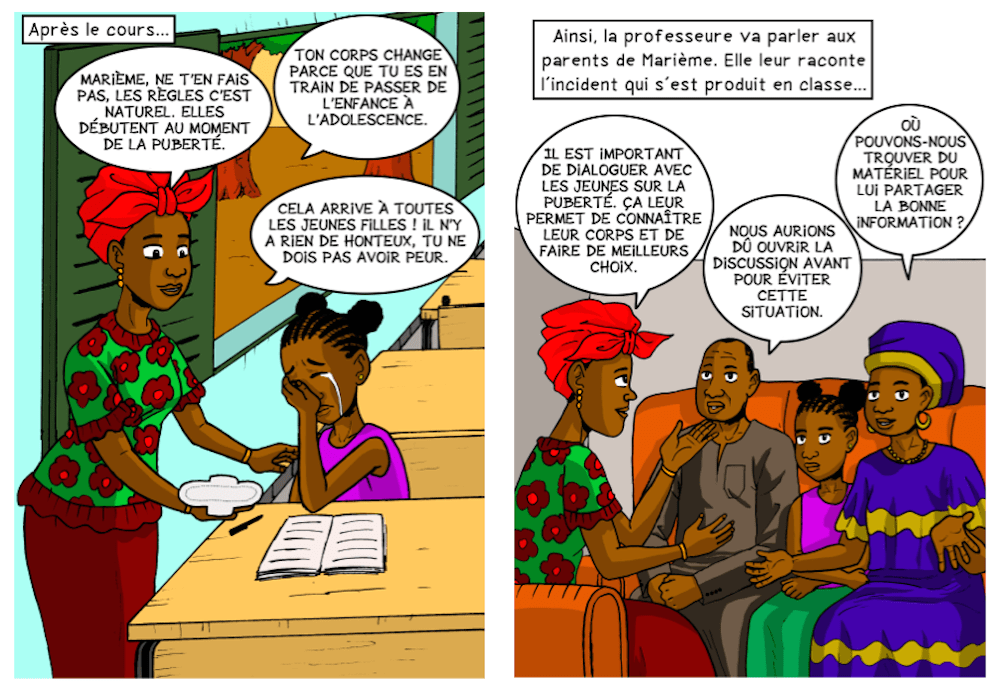 – Make menstruation a health, education, and equality issue
Every day, 300 million women around the world get their period. Yet within families, menstruation is shrouded in silence and shame; in public, it receives little funding even though it is an education, health, and rights issue. For these reasons, Equipop is taking action!
Menstruation is a simple biological fact that too often constitutes an obstacle to young women's health, dignity, and rights. Taboos about menstruation still cause embarrassment, shame, and stigma nearly everywhere. In most societies, menstrual blood appears to be a stain that must be concealed.
L'étude que nous avons réalisée pour l'UNFPA confirme et illustre qu'en Afrique de l'Ouest et du Centre, nombreuses sont les filles qui ne savent pas ce qu'il leur arrive quand leurs règles surviennent pour la première fois. Même si elles ont reçu des informations avant, ce sont des sentiments d'inquiétude et de peur qu'elles ressentent. Les premières explications données généralement par la mère, concernent la protection hygiénique et le risque de grossesse, mais de façon floue puisque le lien entre règles, cycle menstruel, reproduction n'est bien souvent pas établi. Au final, ce sont donc surtout des injonctions à éviter les garçons et les hommes que les jeunes filles reçoivent. Dans le même temps, les premières règles peuvent être associées à un signe de maturité et de majorité. Les jeunes filles sont alors considérées comme adultes pouvant arrêter l'école, travailler, se marier et avoir des enfants. En raison de l'accès difficile à des infrastructures adéquates (eau, toilettes, assainissement) et de la pauvreté, la précarité 16 Impulser menstruelle et ses conséquences sur la santé et la mobilité concernent une très grande majorité de femmes et de filles. Enfin, les fausses croyances, les mythes, les pratiques sociales dangereuses et le silence qui planent sur les menstrues peuvent transformer le moment des règles en période de restriction, de privation ou d'exclusion. Tout cela limite les filles et les femmes dans leurs activités personnelles, domestiques, scolaires et professionnelles tout en fragilisant leur estime et leur confiance en elles.
Since periods begin at a crucial time in the development of girls' identities, this negative image strongly affects the way girls view their bodies and status; it also affects the way boys think about the female body. This negative image partly explains why women and girls have difficulty accessing basic infrastructure, such as toilets, essential menstrual-hygiene products, and appropriate care for associated pathologies, such as endometriosis. Researchers, activists, and journalists are now bringing this long invisible issue to public attention, as illustrated by the establishment in 2014 of the International Day of Menstrual Hygiene, May 28, now celebrated across the world.
MENSTRUAL HEALTH SERVES AS A GATEWAY TO EDUCATION AND RIGHTS FOR THE YOUNGEST ADOLESCENT GIRLS
In the region, so-called "WASH"3 projects are increasing access to appropriate menstrualhealth infrastructure and hygiene products. While some WASH projects include information campaigns, they are often scattershot or simply pilot projects. Such projects rarely integrate a rights-based approach. Few countries have adopted menstrual health strategies and standards, but there is a willingness to facilitate, for example, the mainstreaming of menstrual health and hygiene into all relevant sectoral policies. Even though menstruation remains a taboo subject, the Equipop study findings and task force member feedback show that an open dialogue that repositions menstruation as a normal and natural phenomenon for girls at the time of puberty reduces negative perceptions about periods and increases interest in them, including from men and boys.
The subjects of menstrual health and hygiene, and puberty more broadly, serve as gateways to in-school and out-of-school sexuality education. Social welfare and health centers would better serve girls and young women if they included menstrual health in their adolescent and youth sexual and reproductive health and rights service packages, like they do with family planning, sexually transmitted infections, and HIV/Aids.
Based on these findings, Equipop systematically incorporates menstrual health into its actions to promote and improve SRHR through advocacy, support, and comprehensive sexuality education. Equipop supports a variety of actions that complement WASH programs, such as de-stigmatizing menstruation, setting positive norms for periods, and creating and disseminating information, communication tools, and materials to promote human rights and gender equality. Equipop also supports young feminist movements and activists who raise their voices to break the silence and taboos around periods and who call for an end of menstruation-related discrimination and injustice.