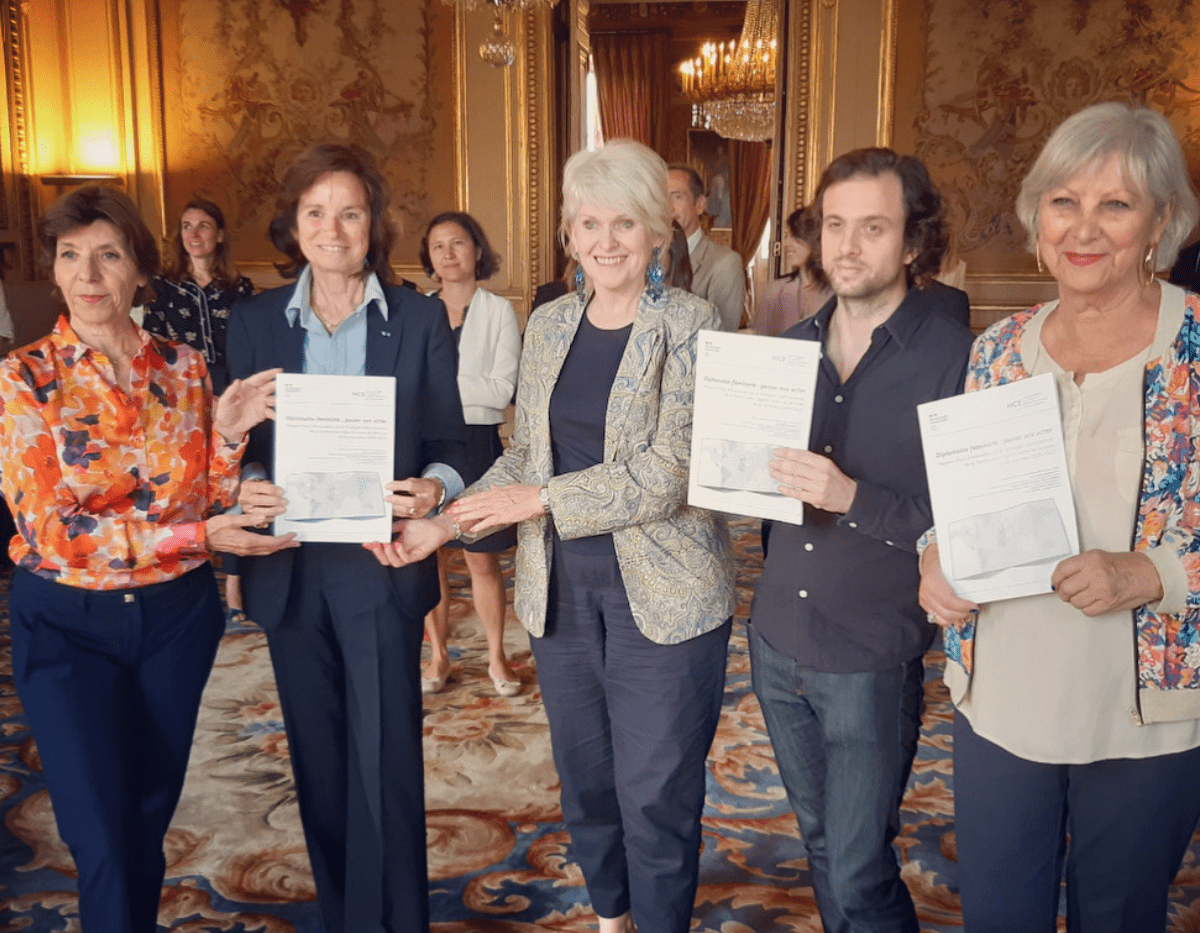 – Feminist foreign policy: the accountability report in France is out!
After assessing five years of France's "feminist diplomacy", the Gender Equality High Council handed in its report to ministers Catherine Colonna and Isabelle Rome. Equipop made a major contribution to this report, that is the first comprehensive accountability tool ever on feminist foreign policy in France. At this time, there is no English version of the full report, but it seemed relevant to share a few takeaways with feminist activists and governments that, all over the world, are working at building feminist foreign policies.
The Gender Equality High Council is an independent consultative body created in 2013 that evaluates French public policies on gender equality and feeds public debate on the issue. It is composed of five commissions: four focusing on national matters, and an international commission. Equipop has been a member of the commission for several years, and is co-chairing it since 2022.
The commission notably evaluated the second "Gender and Development Strategy"  (2013-2017). In 2018, the third strategy widened its scope beyond development issues and became France's first International Strategy on Gender Equality (2018-2022). The commission was still identified as its evaluator. However, the report that just came out took another major fact into account: in 2019, France announced a "feminist diplomacy", thus setting a political objective that was originally not included in the written strategy.
Hence, on July 3rd 2023 the High Council handed in the report entitled "Feminist diplomacy: moving from words to deeds – final evaluation report on France's International Gender Equality Strategy (2018-2022)", to Catherine Colonna, Europe and Foreign Affairs Minister, and Isabelle Rome, Gender Equality Minister.
This is the result of almost a year of document analyses and hearings with a very diverse range of representatives from high-level institutions, including ambassadors in capitals or to multilateral bodies (UN, NATO), from agencies active in a wide range of fields (Agence française de développement, Expertise France, Agence pour l'enseignement français à l'étranger, Institut français), as well as the Finance ministry.
Defining, assuming and financing
After five years, the High Council points to three main shortcomings: French feminist "diplomacy" lacks a solid conceptual basis, is too timidly supported politically, and relies on insufficient resources, both financial and human.
Some progress has been made, but to move towards an actual feminist foreign policy, a real step forward will have to be taken. With this in mind, the High Council has put forward 18 recommendations based on three themes – "define, assume, finance": 
-define the concept of "feminist diplomacy" or "feminist foreign policy", in an inclusive manner and in co-construction with feminist organizations; 
-affirm the government's commitment at the highest level – particularly in European and international bodies;
-provide the strategy with adequate human and financial resources.
In a context of a backlash against the rights of all women and LGBTIQ+ people around the world, including in France, the High Council believes that feminist foreign policy is a crucial tool that must be promoted at all levels and in all areas.
A few months ago, Equipop had published a report analyzing the backlash and making recommendations to France.
The High Council's recommendations must now be taken into account in drawing up France's next strategy. Equipop will continue to contribute to this work in the various working groups, on behalf of the High Council, but also on its own behalf, and will help ensure that the expectations of West African feminists are given priority.
In the coming months, based on this report, Equipop is eager, along with its High Council colleagues, to exchange ideas with other feminist CSOs or activists around the world, in order to strengthen the dynamic towards Feminist Foreign Policies, in particular in the perspective of the UN General Assembly and the conference held by the Netherlands in November.